Some background about me: At the age of 16 I spent some weeks in at Sorek Nuclear Physics Center in Israel, as a talented young scientist; at the age of 17 an Israeli Foreign Office delegate in the US; B.A. in electrical engineering from the Technion; Marine Israeli army officer for 6 years; MA in comparative literature, about theory of both literature and Quantum Mechanics; PH.D. scholarship in Granada University on the Sephardim version of the Kabbalah Book of Splendor. Studies of meditation, channeling, healing with Universal Energy, past life regression and hypnosis, Hatha Yoga and Qigong; I invented a procedure to spontaneously heal through a process of reading the "body cellular memory" and wrote two books, published in Spanish: "A path to one Self: guidelines to the awakening of human consciousness" (theory and practice of Awakening) and "Many faces of one Self: your unique path to transcendence" (Inspiring cases of Awakening through meditation and healing).
In short, this biography is not about a believer of some kind, rather about someone who bases all on direct experience and teaches Awakening in three continents, over more than 15 years, through meditation and healing without labels, and  to medical doctors, psychiatrists, psychologists, therapists, etc.  I accompanied terminal patients as a volunteer at Malaga Clinical Hospital, and give a 9 months course of Tools for Awakening that I call "Soul Therapy", in which we process the subconscious background of the participantes and give birth to the experience of the Self beyond separation (Spain, Brazil, México and Israel).
Because I come from both science and spiritual traditions, what I really teach is merging them into self-consciousness. My approach is a very innovative view of reality which I call "Holographic Non Duality". It uses very simple and modern terms from computer terminology and permits understanding complicated issues such as "soul", "individual karma", "free will" and basic ideas from Kabbala to Buddhism.
According to it, we all live in relative and parallel computer like "virtual realities", where meditation is simply shutting it to connect to the "electricity plug" or current of life. This practice enables us to rest beyond our personal and relative life, like in deep sleep with no dreams but conscious, at the absolute Source of creation (or the Unmanifested realm), with peace and love, which are our true nature.
This hologram means we are different forms of life, on the surface of a sphere, that has only one core or center, abstract and beyond time- space, which experiences itself through us, when we Awake or become conscious of it.
When we die without Awakening, our "software" or virtual memory from this life, together with all our past memories, is moved to the "Other Side" or Cloud Memory, where it is digested and updated until we get a new body or "hardware".  But duality of "hardware" and "Software" or Body and Spirit is just an appearance to those who recognize the Source or current of life which gives birth to both.
What determine each of our relative realities as a different person is therefore the huge amount of memories and programs in the subconscious, like a Hard Drive which contains all the information, since the time we have conceived ourselves separated from the Source, by identifying ourselves with thoughts, emotions and actions.
My first book, "A path to one Self: guidelines to the awakening of human consciousness", is a broad review or encyclopedia of theory and practice of Awakening. It is in the format of answers and questions, with exercises at the end, and has a raw translation into English. As you can see from its 18 chapters below, it covers a lot –  from spiritual seeking to economy, sexuality, education, extraterrestrials and options for soul evolution on Earth:
1. SPIRITUAL SEEKING AND AWAKENING;
2. PERSONALITY AND ESSENCE;
3. THE HEART AS SEAT OF THE SOUL;
4. STATES OF CONSCIOUSNESS;
5. MEDITATION: MIND, HEART AND ABSORPTION;
6. ADDITIONAL TOOLS AND PRACTICES OF INNER GROWTH;
7. THE NATURE OF REALITY;
8. SCIENCE, RELIGION AND SPIRITUALITY;
9. GREAT SPIRITUAL TRADITIONS AND THE NEW AGE;
10. CONDITIONINGS OR FREEDOM?
11. THERAPY AND HEALING;
12. HUMAN RELATIONS AND CONFLICT;
13. LOVE, PARTNERSHIP AND SEXUALITY;
14. OUR FUTURE IS EDUCATION;
15. POWER, ECONOMY AND HUMAN VALUES;
16. CONSPIRACIES AND INTEGRATION IN THE MATRIX OF COLLECTIVE CONSCIOUSNESS;
17. ENTITIES, EXTRATERRESTRIALS AND CHANNELLING;
18. THE SOUL´S EVOLUTIONSARY OPTIONS AND THE FUTURE OF HUMANITY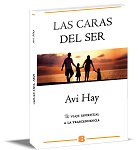 My second book, "True faces of divinity: your unique path to transcendence", is about true stories of Awakening classified in two parts – 1. From the person to the soul; 2. From the soul to the Self –  with 24 short chapters in each part. It is now sold in Latin America and Spain under the well-known "Ediciones B" Spanish publishing house. It´s chapters are:
PART I: FROM THE PERSON TO THE SOUL
Self-discovery
Incentives for the journey
Terminology and research of the soul
The Light Body and Quantum Physics
Incarnating within the family
My Experiences with children
Planet Earth as an airport for souls
Souls from other worlds and the human lesson
Descriptions of the "Other Side" of life
Channeling: messages and messengers from beyond
Biorhythms of past lives and butterflies
Who or what has power over you?
The New Age And the mental matrix
Consciousness or genetics?
The existential program
Finding our teacher
Beyond the lottery
Self- healing
Nourishing the soul
Fantasy and sex
The forbidden education
Conscious conception and childbirth
Practices for the Awakening of the Soul
A Spiritual alphabet for seekers of the Self
PART II: FROM THE SOUL TO THE SELF
Flashes of true happiness
Embracing individual and collective karma
Transcending our Existential Program
Crossing the Dark Night of the Soul
Discovering the real "I am"
Waking up from duality
Integration of soul and person
Confidence in Universal Intelligence
Cultivating stillness through the eye of the hurricane
Letting go of one's own path
Looking in the Hall of Mirrors
The free will just to be
Self-realization
Accompany terminal patients
Feeling the ocean in a drop of water
Beyond Mindfulness
Our true religion
The use of prayers and mantras
Having a "functional ego"
Beyond Samsara and Nirvana
The cradle of inner certainty
The last game of enlightenment
To become an instrument of Divinity
What is the meaning of your life?
My path of experience, books and teachings